I am deeply committed to giving back to my community through volunteer service. Some of the most rewarding experiences I have had and some of the most important things I have learned have come from service activities. The old maxim is true: you get out what you put in.
In the mathematical arena, I regularly advise math majors at Creighton and have served as an RSP freshmen advisor. I also mentor the undergraduates preparing for the Putnam Competition and have run a series of independent study courses and activities to help broaden our undergraduates' experience.
I have also served since 2018 on the advisory board for the Creighton Honors Program, a program geared to support a broad intellectual liberal arts education for students majoring in the sciences or humanities. The program includes a wide spectrum of academic opportunities both in the classroom (including access to a variety of classes for everyone usually restricted to majors and upperclassmen) and outside it. I served on the Advisory Board for the Glynn Family Honors Program at the University of Notre Dame from 2009-2014.
I have also visited or instructed at assorted outreach events, including the Research Experience for Undergraduates, University of Notre Dame, 2010; Research Experience for Teachers, University of Notre Dame, 2010; Undergraduate Summer School in Knot Theory, University of Notre Dame, 2012. I enjoy participating in graduate student conferences where possible, such as the Graduate Student Topology Conference at Indiana University, Bloomington, in 2013 and the New York Regional Graduate Mathematics Conference at Syracuse University in 2014.
Outside of mathematics, I have also been actively involved as a volunteer with the Civil Air Patrol since 2007. I am involved with the Civil Air Patrol's three primary missions of aerospace education, cadet programs, and emergency services. I have served in staff positions in several squadrons, wings, and regions, primarily in emergency services, flight operations, and safety. I am an FAA-Certified Flight Instructor (airplane and instrument), and I serve as a CAP instructor and check pilot to help train and evaluate other pilots. I have also been active as a Mission Observer or Mission Pilot for Search and Rescue/Disaster Relief missions since 2007, and I have taught extensively both in the classroom and in flight at Mission Aircrew training academies in multiple states, and I am currently assigned to the Mission Aircrew School at the National Emergency Services Academy. A mathematical background is quite helpful when teaching classes which require some knowledge of algebra or trigonometry on the part of the students, many of whom have been out of school for years, and some of whom never went past high school algebra. My research activities also give me the perspective to present this instruction as part of the broader STEM subjects, and they have given me the background I need to talk intelligently to high school students and to their parents and the other adults who mentor them about what it is like to work in a STEM field and what it is like to do research.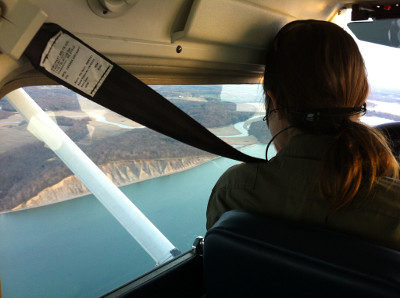 Just another Saturday afternoon in the Civil Air Patrol classroom.